›

Services

›

Easy analyse
EASY@NALYSE: CONSULTATION, GEOLOCATION & AGRONOMIC INFORMATION OF YOUR TESTS
This is an exclusive web service whose objective is to modernise, secure and simplify the entire information system upstream (sampling) and downstream (storing and viewing) of agronomic testing.
Easy@nalyse.fr is accessible to technicians but also directly to farmers, if you decide to provide them with their ID (your organisation code) and their password (their customer code or member code).
EASY@NALYSE.FR COMPRISES 3 PACKAGES:
1. Completion of agronomic questionnaires
You fill in (or the farmer fills in) the information sheets using a simple, user-friendly input interface. The input is fast, secure and almost fun thanks to the option to duplicate files. All the information entered is automatically transferred to Harvest, the smartphone sampling management software that all our sample collectors are equipped with.
2. Geolocation of samples: This unique package does not exist anywhere else:
Thanks to a 'satellite' background map which is automatically positioned on the chosen farm, you can easily locate the plots to be analysed and position the chosen sampling areas within each plot. Choosing the sampling zones becomes child's play, however the user-friendliness and simplicity of this package should not obscure its obvious technical interest: the samples are taken exactly at the location chosen by the farmer, with no possible error in the GPS coordinates because they are automatically transmitted to the Harvest software that all of our sample collectors are equipped with.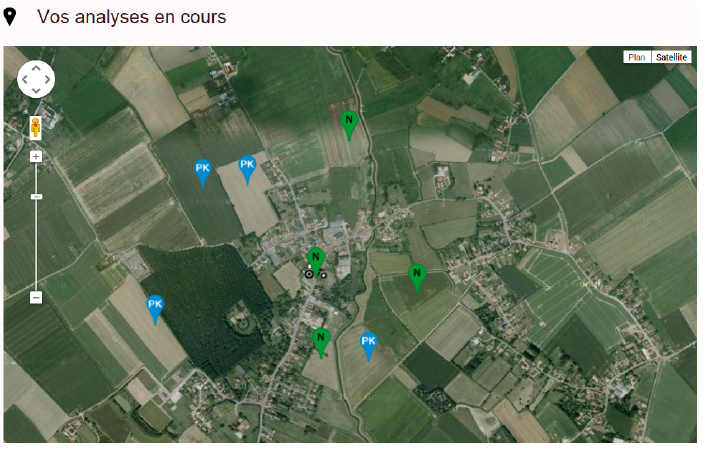 3. Viewing and storing the analysis:
All the agronomic analysis of the farm is stored and can be viewed by the farmer (provided that you give him access to his bank of analysis). This provides security for the farmer in the event of an inspection.